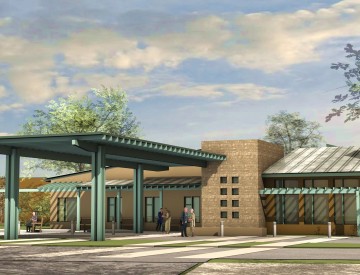 New Meadows Long Term Care Facility
This project is a new 49,148 square foot, 180-bed long term care facility for the New Mexico Behavioral Health Institute in Las Vegas, NM. The design uses residential-scaled housing clusters built around courtyards to maintain a home-like atmosphere for residents.
As a candidate for LEED Silver certification, this project is designed for energy efficiency, water efficiency and daylighting. Natural light is incorporated into the design through large skylights, clerestory windows, light shelves and a variety of exterior shading devices. Fenced courtyards and outdoor dining areas extend usable space beyond the walls of the building.